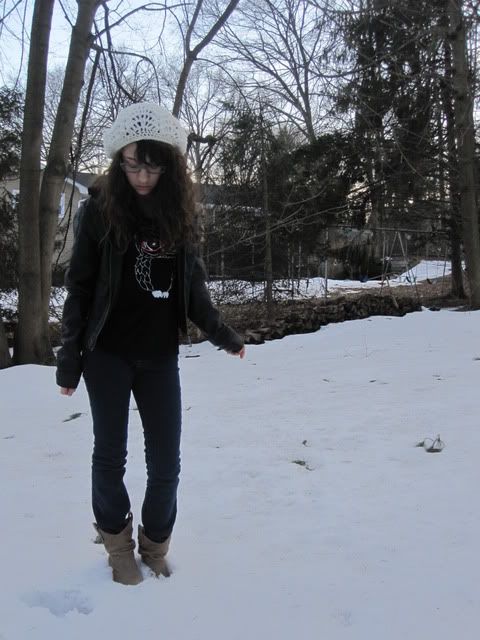 These were taken on the last day of the weekend, and February break. Actually, just the second to last day of February! Isn't it so weird, it's the end of February already! Seemed like just yesterday I was gushing about 2010 review posts! Actually it still seems a little weird that it's 2011! I'm used to writing it down, but whenever I think about 2009 now, I realize how long ago it was! It doesn't really seem like that long ago though. Certain things just seem like a blur, and so much longer ago then others! And an official sign of the end of February, it
rained
today. Something non-frozen. I mean, we don't get
that
much snow here, but it's melting extremely early this year. Usually it doesn't melt until mid March or so. But at this rate all of the snow will be gone by the end of the week.
Though, I am extremely excited for Spring, I feel slightly bitter-sweet about it. Kind of feels like time is passing by so fast, it seems like only a few days ago I was writing a post on the last day of November being so excited for it to start snowing! I mean, it will be back next year, still it just feels so quick now. I am quite thrilled for spring. Today I went outside wearing tights, and a cardigan, and I wasn't really cold. Maybe that's really just the difference of the bitter cold and what it is now. But, to prove my point, my hands weren't cold when I went outside! WOW! That's usually the worst part of going outside without a coat. Even with a coat, I normally don't even wear gloves, I just stick my hands in my pockets! Still, it's a big difference!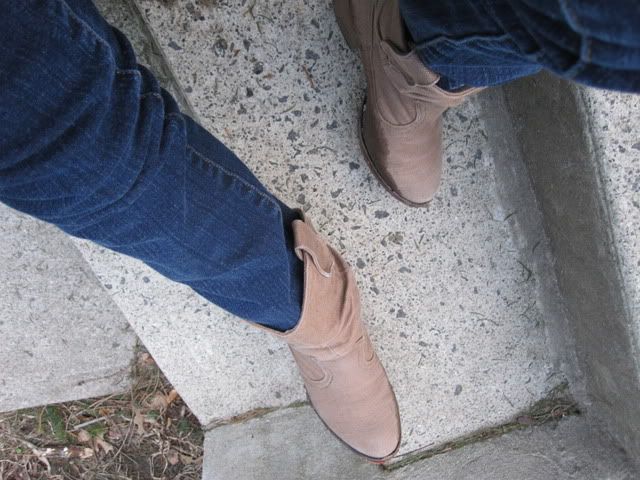 *Hehehe, this photo of my shoes was taken at a very odd angle, what I might call upside-down and backwards
Also, I can actually see grass... well dirt, when I was walking around outside today! And instead of crunching snow all the time, sometimes the ground was squishy! So exciting! For a little sneak peak at the this you can see at the corner of this photo. Even with all of my gushing, the snow isn't quite gone yet, still about an inch or two left with some ice underneith.
I think for this spring I'm really into these
**
Rocketdog mock-cowboy boots again. I was obsessed last fall, and I think I have rekindled my love for them! So perfect for a mix between winter and spring. I could probably even wear them with bare legs (score!) without looking ridiculous. I'm normally not a huge fan of this, no. I'm not a huge fan of shorts, bare legs and boots, I don't necessarily have a problem with bare legs and dresses or skirts. Yet again, I've never tried it before, maybe I'll try it this spring now that I have enough skirts and dresses to do so! Maybe I'll post again later tonight, or maybe not. We'll see!
Shoes & Jacket- Marshall's/Jeans & Top- Delia's/Hat- Claires
** The boots I am wearing I bougt at Marshall's but are Rocketdog brand.