My first post in the morning in a long time. Took this back on Wednesday. One of my best outfits in a really long time. At first I just liked it. And I was thinking of getting the hood to the ol' pleather jacket. and I came across this amazing little scarf...mmmm. I can think of a million ways to style it already.....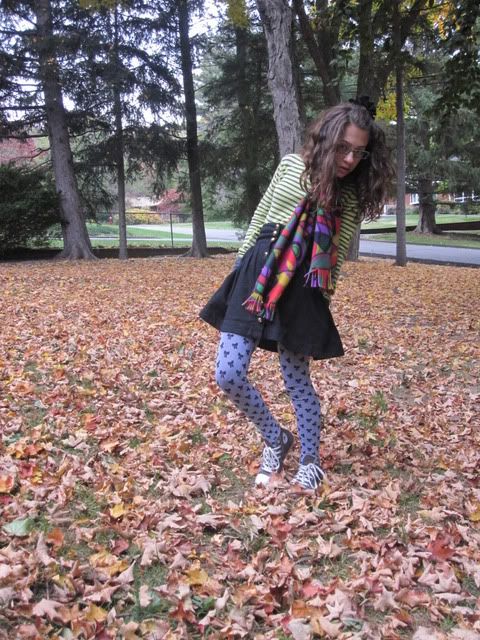 ***Sorry if any of my photos look akward! There was a HUGE rip in one side of my tights. What a shame any two wears. This week I also ripped a brand new pair of fishnets, and my red polka dotted tights from my last post.. need some new tights. Maybe I'll take a trip over to trarget soon. Recently discovered they have AISLES of tights.
Had a few more posts plan, but screw it. Not enough patience.
***Entering the 17 style concil wish my luck! I have to send in 3 outfits, I was thinking this would be one of them. Maybe something I wear today, or my polka dot dress. And then I would send in some type of pant.
Shoes- Converse, Shirt-Delia's, Skirt-H&M, Tights-H&M, LEggings(undernieth)-H&M,
FLower-H&M, Scarf-grea question, I'll see if I can remember....