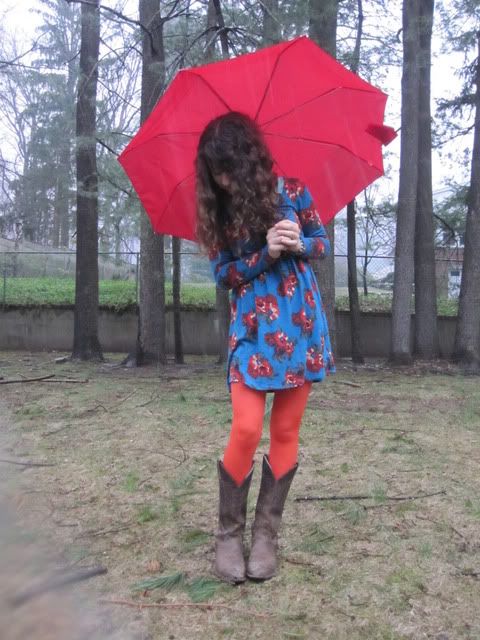 Boots-Moms (Vintage)//Tights-Hand Me Down//Dress-Forever21//Umbrella-Tote Outlet (?)
I am beginning to realize that quite a few colors are out of my comfort zone, brown, pink, and now orange! Though I've never been the biggest orange fan, I certainly don't hate it. In instances, it can be quite pretty, but I have to be in the mood to really wear it. Actually, I think I have more pink in my closet than I do orange. How odd, considering I'm on the anti-pink agenda. It's just too feminine for me. I mean, I'm a lot more feminine than I used to be, I used to cringe away from dresses! I was never exactly a tomboy though, but never a girly-girl. I guess I'm somewhere in between? I mean I've always loved clothes, apparently when I was 2 I dressed myself! Haha! I can picture the 2 year old me with all of her options! Actually though, I must admit I was a girly-girl in those days. I loved the color pink and wanted to be a ballerina when I grew up! Haha! I love reminiscing.
**If you happen to be wondering about the blurred corner, I put a plastic bad over my camera when it is raining, it must have been in the frame, whoops!